An islet with a few fishermen and farmer families, Koh Pich (Diamond Island) has gone through a spectacular urban development in the last twenty years.
Saved from concrete and high-rise expansion, Treellion was created at the end of the 1990s as a haven of nature where couples and young families could stroll among a collection of statues celebrating love -- it was then called The Love Garden -- and fauna. In the center, a sculpture evoking the four-faced towers of the Bayon temple, the work of master sculptor Chantha ចន្ថា -- who also created King Norodom Sihanouk's statue erected at the Royal Palace --still proudly stands.
Far from hectic traffic and close to the River, Treellion's trees and shrubs are a refuge for several rare species of birds, often spotted by bird watchers.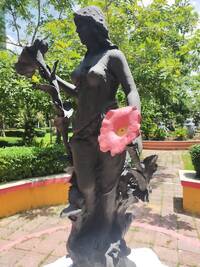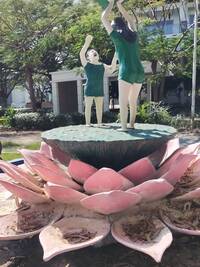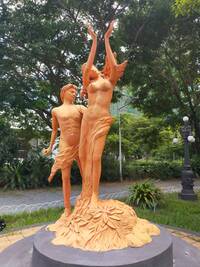 Opened in 2021, the first Phnom Penh miniature golf with 18 holes is already popular with Phnom-Penhers looking for some exercise and fun in a green environment.
A much loved outdoor golf game that anyone in the family can play.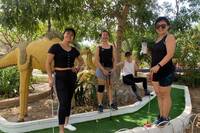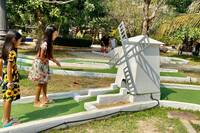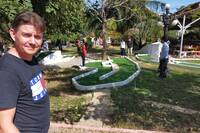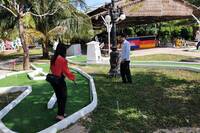 The Glass House
Get a snack and a drink at a food stand while strolling the green alleys or sitting on a bench at Treellion Park. Visit TheGlass Housefor al fresco or indoor cocktails and meals, with an attractively priced lunch menu is now available.
The Bus
You can also enjoy an open-air cinema session, a live music event and a signature cocktail near or onboard The Bus!
Monsieur Wine
A classy yet relaxed wine bar & shop open to the park, with a unique selection of French blends to be discovered. Ladies Night (Thursdays), Oyster and Wine Pairing parties, and a private degustation room to discover exclusive, reasonably priced vintages. Stay in tune with Monsieur Wineand its welcoming team.
Thai Kitchen
The trendy Thai and Asian fusion food restaurant has now an outlet at Treellion Park, with a wide selection of drinks and dishes. Thai Kitchen at Treellion Park is open every day.
Events
In April 2022, Treelion Park hosted International Jazz Day, a major public event since Covid-19 restrictions have been eased. A new space, The Whale House, will be soon open for concerts, dance performances and more.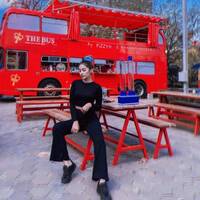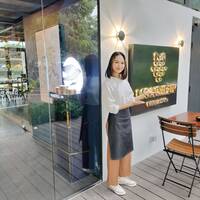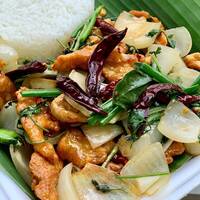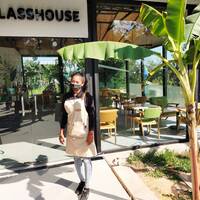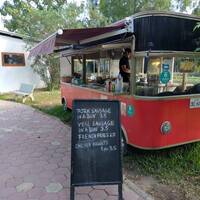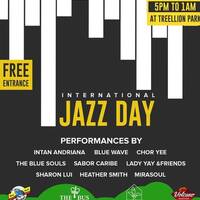 Koh Pich in the late 1990s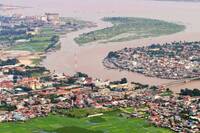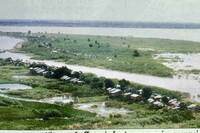 Treellion Wonders
A park sprinkled with fantasy and magic.
The Whale
Let's start with "The Whale", surrounded with its two-dozen frolicking dolphins. Urban legend has it that the giant fossil was discovered in the muddy banks of the island in the 1990s, during the excavations for the future building sites.
Not to be confused with the laughing dinosaur statue nearby, this relic from a Mekong River and oceanic cetacean has not been dated nor clearly identified so far, even if some imaginative minds saw a Megalodon (Otodus megalodon), an extinct species of mackerel shark that lived during the Miocene and Pliocene eras.
Our guess is this is the skeleton of a Rice's Whale (Balaenoptera edeni), a species added in 2017 to the IUCN Red List of Threatened Species. Similar skeletons are displayed, for instance, at the Nha Trang National Oceanographic Museum (Vietnam) and the Sabah Museum (Malaysia) -- see photos below.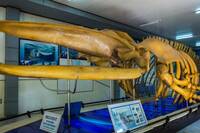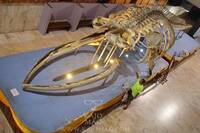 The Statues
Scattered around the park are some 175 statues added to the Bayon-like sculpture by state sculptor Chantha (author of King Norodom Sihanouk's Memorial bronze statue) and RUFA students after the Cambodian government decided to create a recreative park in Koh Pich.
With their unique mix of lyrical celebration of love, kitschy depiction of real and imaginary animals, and pure fantasy, the statues are being redecorated by art students and street art creators. And for now, a multicolored festive dinosaur flanked with two serene lions sculpted in Khmer traditional style welcome you at the entrance.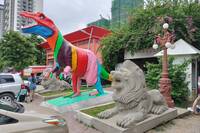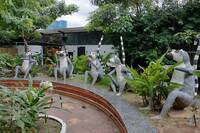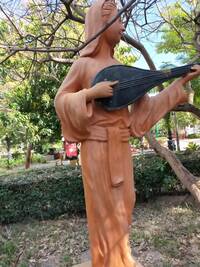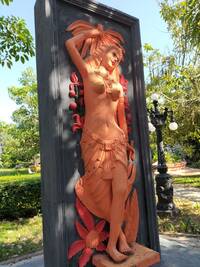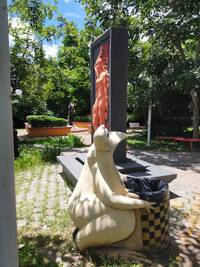 "Restoring and Relaxing"
Spaces where urban denizens can reconnect with nature and get a direct sense of biodiversity are seen as more and more important.
Recently, sociologists Archana Bele and Ujwala Chakradeo have noted that "regarding restorative benefits of biodiversity, the findings demonstrate that people largely find biodiversity as restorative and seek numerous health benefits from urban green spaces including physical, mental, and psychological well-being. Though aesthetic preference is found to be unrelated to age and gender, people find scenic beauty and natural planting more restoring and relaxing. Thus, restoration in urban public spaces depends not only on individual perceptions but also on the physical characteristics of the setting. Hence, to gain restorative benefits from nature, there is a need to increase the number of urban green spaces, improve vegetation cover with botanical and floral diversity, and enhance species richness and biological complexity within."
And they add: "Though people only appreciate benefits that are immediately apparent in a general sense, the studies indicate that people are not completely disconnected from
experiencing biodiversity in urban green spaces and still perceive and appreciate species
richness present within. Overall, it is observed that vegetation characteristics like planting
structure, flowering, quality, and quantity of vegetation have a greater influence on
perceptions of biodiversity." (Bele Archana & Chakradeo Ujwala, 'Public Perception of Biodiversity: A Literature Review of Its Role in Urban Green Spaces', Journal of Landscape Ecology (2021), Vol: 14 / No. 2. Full article here)