Located in between the DIB football pitches and DIBClub famous swimming pool, the AquationGolf Driving Range is dedicated for experienced golfers who wish to use premium equipment to improve their skills and style on the golf course.
Nine boxes are equipped with ©TrackManGolf swing analyzing machines, monitors and HD cameras in order to extract the most accurate data of each of your shots, while instructors will be guiding you through their use. This is the first and only golf driving range facility in Cambodia at this stage.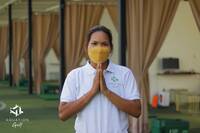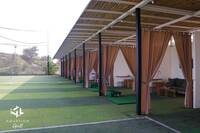 Rates
During the Opening Month, 20% Discount on all rates:
One Hour Balls

From 6:00am until 4:00pm : 7.20 USD instead of 9 USD
From 4:00pm until 10:00pm, weekends (Sat-Sun) and public holidays : 9.60 USD instead of 12USD
10x Coupons for "One Hour Balls"
70 USD
To be used anytime during opening hours and within 2 months.
Weekly Pass
32 USD
Anytime during opening hours, one hour balls per day, max 5 times in one week.
Monthly Pass
95USD
Anytime during opening hours, one hours balls per day, max 5 times per week.
One-Hour Lesson
70 USD
With one of Aquation Golf Instructors, English- or Korean-speaking.
Please contact Aquation Golf Reception for bookings.
(10% additional Discount after presentation of the Aquation Tenants Perks Pass)
Golf Store
Premium clubs, balls, shoes, gloves, outfits for those who are serious about going golfing.
Opening end of February 2022.
Bookings:
+855 17 533 909 (also Telegram and Whatsapp)